PALM SPRINGS DECK LIGHTING
FOR HIGH-END PATIO LIGHTING, CONTACT OUR EXPERTS TODAY!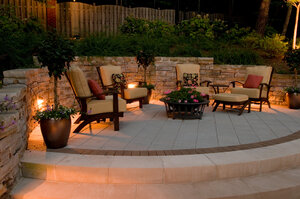 Transform your desert oasis with attractive deck lighting! Enjoy the beauty of the outdoors and get some fresh air. All without leaving the comfort of your own home. One of the best parts of having an outdoor living space like a deck or patio. You should be able to enjoy your outdoor patio any time you want. But once the sun goes down, it isn't always fun to sit outside in total darkness, which can cut off the good times. Outdoor Lighting Perspectives of Palm Springs specializes in custom deck lighting and patio lighting. We will transform your residential outdoor spaces into your favorite nighttime hangouts. You'll be able to enjoy your beautiful backyard or sit with a good book and a glass of wine. At OLP our value and quality can't be beat! We offer a free design consultation, nighttime demonstration, and the best lighting fixtures! Learn more about why OLP is the best outdoor lighting company in Palm Springs!
Contact us online to schedule your free lighting consultation!
DECK LIGHTING FROM OUTDOOR LIGHTING PERSPECTIVES OF PALM SPRINGS
Every home and property is different. And we don't believe in duplicating formulaic lighting designs. Especially ones that don't consider your style and needs. Instead, we work with you to create a custom deck and patio lighting design that's unique to your property.
Worried about your energy costs spiking after your landscape lighting system is installed? Don't be! We focus on energy efficiency and use low-voltage LED deck lighting. We still give you the high-end look you want.
We also serve the residents of Palm Desert!
DECK AND BACKYARD LIGHTING IDEAS
Our experts know how to strategically light everything. From gardens and fountains to pathways, driveways, stairs, pools, and architectural details. We create a perfect balance of safety and style. So you and your guests can enjoy the outdoors without worrying about trips. Our lighting designs range from simple and classic to funky and eclectic. Whatever your personal style, we can reflect that in our design!
OUR PROCESS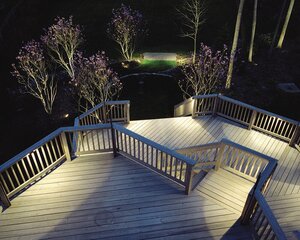 We will start by scheduling a free consultation where we can walk through your property. We then discuss areas you want to highlight. And also address any particular safety concerns. Then, we will set up a free nighttime lighting demonstration. This way you can get a feel for how outdoor lighting can affect the look and feel of your property. After finalizing our design and they get approved by you, we'll install everything. And do a final walkthrough with you to make sure you're happy with the final product. We offer one year of free maintenance. And will gladly help you keep your system working its best.
Call Outdoor Lighting Perspectives of Palm Springs today! Dial (760) 227-7723 to schedule your free consultation and evening lighting demonstration! Read our customer reviews!