Reno Deck Lighting
Light up your Outdoor Living Spaces with Outdoor Lighting Perspectives of Reno & Lake Tahoe

Are you tired of not being able to fully enjoy your deck or patio because the sun went down? Outdoor living space is an expansion of your home, an area to relax and entertain with family and friends. Why not extend enjoyment into the evening hours with professionally installed patio and deck lighting?
With outdoor lighting for your home in Reno or in the surrounding areas, you can convert your patio or deck into a lovely spot to enjoy evenings outside. Our professionals will listen to your needs and respect your property as they create customized lighting for your home. We also use innovative techniques when installing landscape lighting to ensure a quick and budget-friendly process. From start to finish, we'll maintain open communication, because we are dedicated to exceptional service and custom outdoor lighting solutions. We also offer commercial outdoor lighting options! From our free design consultation, to nighttime demonstration, quality products, and unbeatable industry customer service, there is a reason Outdoor Lighting Perspectives of Reno & Lake Tahoe is considered the premier outdoor lighting company!
Schedule your free outdoor lighting consultation today!
Benefits to Installing Deck Lighting or Patio Lighting
Especially in the warm Reno months, having patio lighting so you can entertain and relax for long makes all the different in enjoying your property even more! From grilling out to cocktail parties by Lake Tahoe, you can trust that a new deck or patio lighting system from OLP will be that extra luxury you've been waiting for!
Some common conveniences from installing deck lighting and patio lighting:
Increased safety from dark spots and potential tripping hazards
Enjoy your outdoor spaces for longer
Add property value
Enhance curb appeal
Highlight your gorgeous landscape
Functions of Deck and Patio Lighting
Task Lighting - If you need extra light to navigate safely across your deck, or make sure your burgers aren't burning by the grill, deck and patio lighting is a great option to accomplish these tasks!
Ambience Lighting - Enhance the overall feel and welcoming atmosphere of your backyard with deck & patio lighting. And if you live by the lake, extra deck lighting is just what you need to enjoy your amazing views well into the night!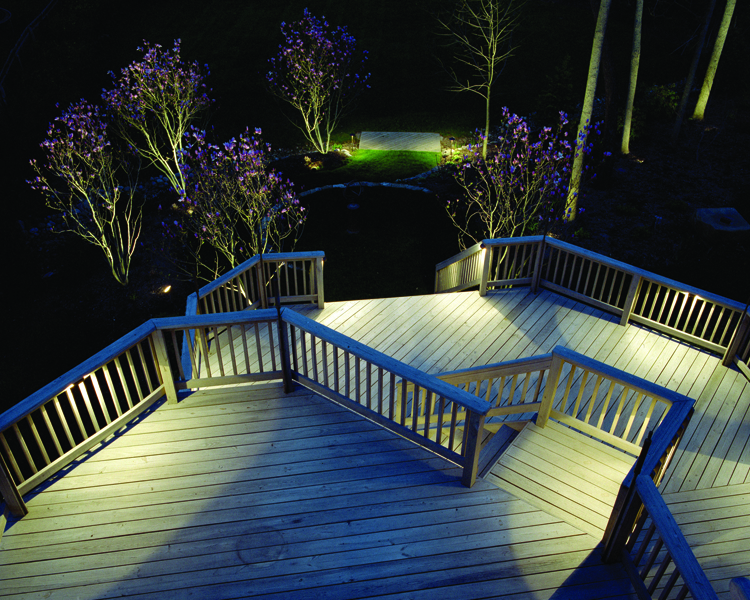 ​Outdoor Lighting Perspectives of Reno & Lake Tahoe has transformed decks, patios, rooftops and porches with soft and subtle lighting designs. We carefully calculate to ensure the lighting is properly spaced for an even wash of illumination that is functional and aesthetically pleasing. Extra attention is given to make sure that stairs, steps and pathways are properly lit to avoid trips and falls when it's dark. Lighting can truly enhance and transform outdoor living, so let us create a custom design for your home.
Why Choose Outdoor Lighting Perspectives of Reno & Lake Tahoe ?
OLP has been a the go-to provider for top quality patio lighting installations for over 20 year! Why? Because we don't just stop at providing the best products and having the most knowledgeable experts, we also believe in always putting our customers first by providing you with the best bang for your buck, as well as be open and transparent in our communications with you.
Experience Outdoor Living with Deck Lighting in Reno, NV
Enjoy the warm summer evenings with the professionally installed, reliable Reno outdoor lighting services from OLP! We offer more than just the highest quality products, we also offer the best value! Including free consultations and night time demonstrations!
Call (775) 451-2482 for a free design demonstration for your outdoor living space.