Extend the Night Life Using Naples Dock Lighting
It's finally finished: the dock you've put so much effort into designing and building. Now, wouldn't it be terrible if all of your hard work was for nothing by forgetting one of the most important aspects—dock lighting. This is true whether you've installed a basic dock just for your boat or if you've gone all out and incorporated an entertainment space.
Living the Dock Life with Naples Dock Lighting
The benefit of living in Naples, Florida is the beautiful tropical climate, which allows for extensive time to spend outdoors. However, given the summer's baking sun, a good portion of this time may be during the twilight and evening hours. Moreover, in the winter months, the short days put a damper on the amount of time you can lounge on your dock. Having beneficial dock lighting can extend your dock's usefulness.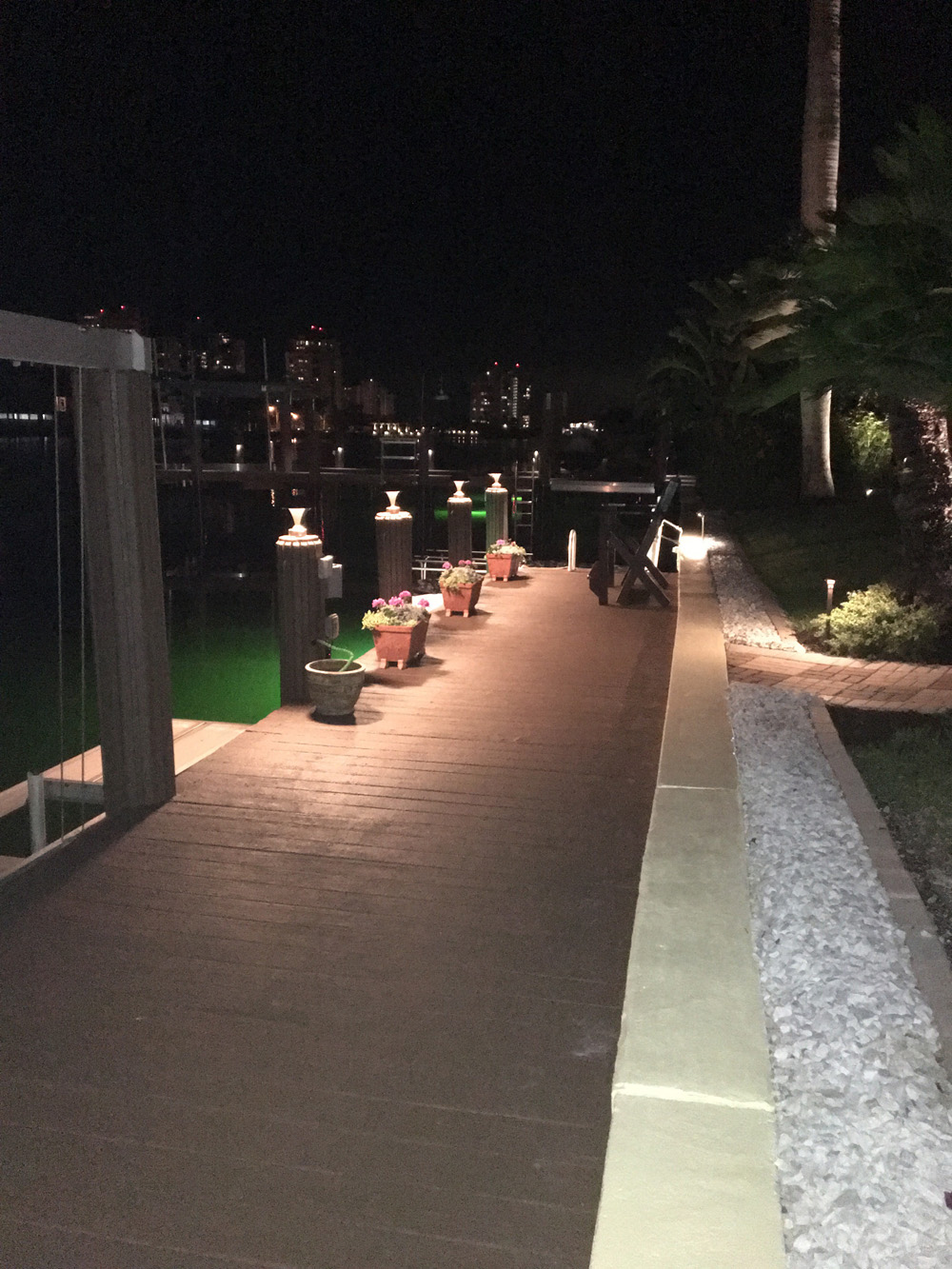 There is nothing better than relaxing on your dock after a long day with a glass of wine while listening to the lull of the water or entertaining guests. However, who wants to do either in the dark or retreat inside once the sun has fully set. Installing dock lighting allows you the freedom to enjoy the more pleasant Florida evenings, year-round.
Just like our deck and landscape lighting, the lights available for your dock are small but mighty. The lights, mounted on the posts of your dock, provide just enough light to illuminate your path, without blinding you. Moreover, if you've incorporated an entertainment space (like a gazebo or even an outdoor kitchen) to your dock, you'll want to make sure you incorporate task lighting. Even better, with OLP, you never have to worry about sacrificing form for function—you'll get both.
Dock Lighting Safety
Dock lighting is essential for docking and boarding your boat safely at night. Not only will adequate lighting make it safer for you to dock your boat at night, but it can also help you identify your dock in the dark. With OLP's custom dock lighting designs, we'll work closely with you to consider your neighbor's light placement. We will make sure that yours are memorably different or color to make the end of your dock stand out.
Hiring a professional, like Outdoor Lighting Perspectives of Naples, to take care of your dock lighting needs will ensure that the placement of the lights ensures a proper installation height and that they will not negatively glare off the water.
Aside from making it safer to dock your boat, adding dock lighting also works to deter thieves. Leaving your boat docked without any lighting is opening yourself up to theft. Likewise, even if you don't own a boat, having dock lighting can make your property more secure.
Ready to enhance your dock with lighting? Call (239) 970-9554 today to schedule a design consultation for Naples dock lighting.