DECK LIGHTING IN SANDWICH, MA
LOCAL PATIO LIGHTING EXPERTS NEAR YOU!
Tired of having stop the fun on your deck or patio because the sun went down? Your deck or patio is an expansion of your home, an area to relax and entertain with family and friends. Extend enjoyment into the evening hours with professional patio and deck lighting. Outdoor Lighting Perspectives of Plymouth can help! We offer a free consultation with our expert lighting designers. We help you find the perfect look for your deck or patio lighting. Plus, we offer a free demo, top-tier lighting fixtures, and more! From recessed lighting to step lights. Outdoor Lighting Perspectives of Plymouth is your premier outdoor lighting company. We work within Sandwich and Plymouth communities!
PLYMOUTH DECKING AND LANDSCAPE LIGHTING SERVICES
Outdoor lighting can transform your Plymouth home! You can convert your patio or deck into a lovely spot to enjoy evenings outside. especially in warm summer nights. Our professional field technicians will listen to your needs and respect your property. All as they create customized lighting for your home. We also use innovative techniques when installing landscape lighting. This is ensure a quick and budget-friendly process. From start to finish, we'll maintain open communication. We're dedicated to exceptional service and custom outdoor lighting solutions. We also offer the popular option of motion flood lighting installation!
WHAT ARE SOME BENEFITS TO DECK LIGHTING?
Adding deck lighting to your home's outdoor spaces will make it safer. Ans also more convenient for you to use them even at night. You can grill out, enjoy a cocktail on a summer evening. Or hang out and take in the natural beauty surrounding your home. Everyone will be able to safely navigate the stairs. Show off the landscape lighting. Including your garden, trees, or shrubbery. So that you and your guests can admire them well into the evening.
Schedule your free landscape lighting design consultation!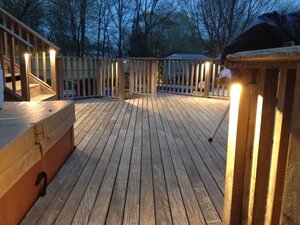 Increased safety from dark spots and potential tripping hazards
Enjoy your outdoor spaces for longer
Add property value
Enhance curb appeal
Highlight your gorgeous landscape
WHAT ARE SOME OPTIONS FOR DECK AND PATIO LIGHTING?
Recessed lighting
Hanging lights
Pathway lights
Stair lighting
And more!
We also offer motion flood lighting installation services! Including in Plymouth, MA and surrounding areas! If you have an existing outdoor lighting system that is in need of repair, we also help with that! We have unbeatable, professional landscape lighting repair service near you. We're the only team to call is Outdoor Lighting Perspectives of Plymouth!
WHY CHOOSE OUTDOOR LIGHTING PERSPECTIVES OF PLYMOUTH?
We have been around as long as we have because not only are we the best at what we do, but no one beats our customer service! We believe in being hands on and communicative with our clients. Understanding exactly what they want their outdoor lighting to be. Our Outdoor Lighting Perspectives of Plymouth lighting designers have transformed decks and patios. All with soft and subtle lighting designs for years. We calculate to ensure the lighting is properly spaced for an even wash of illumination. And make sure that is functional and aesthetically pleasing. Lighting can truly enhance and transform outdoor living! So, let us create a custom design for your Plymouth home. Check out some of our customer reviews!
Call (508) 684-7972 for a free design demonstration for your outdoor living space.