Landscape Lighting in Sandwich, MA
Multipurpose Outdoor Lighting Options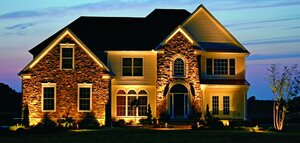 At Outdoor Lighting Perspectives of Plymouth, we excel at illuminating the night. Our landscape lighting specialists and design team have the training, knowledge, and skill set necessary to install a stunning arrangement of outdoor lights.
We will enhance your front and/or backyard with:
Path lights – By placing light sources around the perimeter of your yard, driveway, or walkways, we can improve the safety and boost the ambiance of your landscape.
String lights – This style of outdoor lighting can infuse any setting with a magical mood. String lights are a lovely addition to evening gatherings and soirees.
Wall-mounted lights – We can mount lights along the exterior walls of your home or garage door. Wall lighting will improve the visibility and curb appeal of your home at night.
Floodlights – Our directional floodlights are a great way to light up lawns, driveways, and backyards. Increasing security, they can help protect your home by shining bright light into dark, open spaces.
Spotlights – Spotlights are a great way to accentuate architectural or landscape features. Unlike floodlights that spread light over a wide area, the narrow beams of spotlights are ideal for highlighting individual objects.
Pendant lights – Hanging lights are both functional and aesthetic. They are a great addition to porches and patios.
If you are looking to add a little romantic flair for nighttime events or trying to increase safety, we have landscape lighting options just for you. We can even install lights with motion sensors that will switch in response to movement. These lights are a great way to ward stray animals and unwanted trespassers.
High-Quality Landscape Lighting Products & Hardware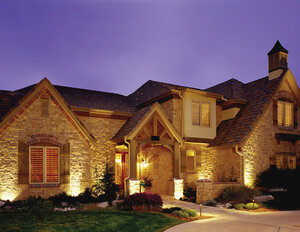 Offering durable hardware and elite installation techniques, you can be confident that our lighting fixtures will survive storms and high winds. Our entire inventory of brass, copper, and specialty fixtures is erosion-proof and aesthetically versatile. With our design experts by your side, you will find hardware that seamlessly blends into your landscape. Check out our complimentary design guide and photo gallery for creative ideas today!
Installing low-voltage LED lights will upgrade your landscape and save you money on monthly electric bills. With the option of connecting your lighting display to a cutting-edge digital app, you can alter the lighting intensity, color, and schedule from the convenience of a mobile phone. If you are interested in our landscape lighting services, book a free in-person design consultation. This will allow us to discuss your aesthetic and budgetary preferences. We can even show you real-life demos to give you a vivid understanding of our various landscape lighting options.
Call (508) 684-7972 or reach out online for trusted landscape lighting services!