Hamilton Square
Landscape Lighting Service
Dazzle your neighbors and transform your home's entire façade with professional residential landscape lighting design and installation! At Outdoor Lighting Perspectives of Central New Jersey, our goal is to design a custom landscape lighting system that addresses the specific needs and wants of each customer. Whether you're looking to show off your garden, highlight a particular feature, or create ambiance, our experts can design an outdoor lighting solution that's perfect for your home or business. From our free design consultation to our unbeatable maintenance plans, OLP is the premier landscape lighting company you can trust to truly create a beautiful aesthetic using top-quality outdoor lighting!
Schedule your free outdoor lighting design consultation today!
The Hamilton Square Outdoor Lighting Services You Can Trust!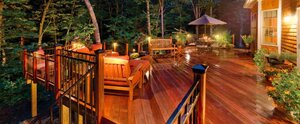 Many Hamilton Square homeowners view their landscape lighting system as not only a tool for further enjoying their property, but also an investment! Professionally installed, modern landscape lighting can help transform your home, from simply garden lighting to uplighting and even pathway lighting. There are many options to choose from, including:
Garden Lighting
Security Lighting
And many more options of exterior lights for your house!
Custom Hamilton Square Landscape Lighting Service from Outdoor Lighting Perspectives of Central New Jersey
Hamilton Square homes come in all shapes, sizes, and styles. It's important to consider not only the dimensions of the area being illuminated but also the specific architectural features of your building and the unique aspects of your property. For example, if tall, elegant columns grace the front of your home, these can be strategically illuminated to highlight their beauty and create a warm, inviting entryway. We'll help you pick the right fixtures to compliment your style, and we'll work with you to design the perfect lighting system to address all your needs.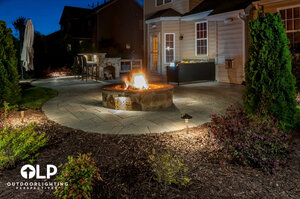 After a one-on-one consultation at your property, our team will design a custom landscape lighting plan, get your approval, and get to work. Our experts have years of training and experience in outdoor lighting, so they know how to choose the right fixtures and design to both highlight what makes your property special and provide a safer, more secure environment for you, your family, and your guests.
Garden and tree lighting are other great ways to emphasize what makes your property special. We can design a system that incorporates subtle lighting to show off the beautiful natural features of your property. We also offer expert patio and deck lighting, so you can safely enjoy your outdoor spaces well into the night.
Benefits of Installing Landscape Lighting
No two homes are the same, and you will be looking to create a lighting effect as unique as your style! Our technicians will help you achieve this goal with our unrivaled expertise. Many homeowners find that once they have installed their landscape lighting, the benefits are endless, including:
Extending time outdoors: The New Jersey winters can be harsh, so once the warmer months hit, you'll be able to enjoy your backyard time even after the sun goes down!
Added security: An unfortunate truth is that home burglary is a common problem with many homeowners. By illuminating areas that could otherwise we exploited, you're helping to lower your risk of potential burglary and theft.
Curb Appeal: It can't be denied that attractive landscape lighting on a home just adds that extra charm it was previously missing! Additionally, many clients find that it's the gift that keeps giving once it comes time to sell!
Energy-Efficient: Installing outdoor landscape lighting doesn't have to mean your electric bill skyrockets! Outdoor Lighting Perspectives of Central New Jersey offers outdoor LED lighting options that are still modern and warm-toned. You don't have to give up looks for efficiency!
Why Choose Outdoor Lighting Perspectives of Central New Jersey?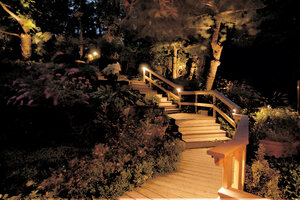 Outdoor Lighting Perspectives has been a premier Hamilton Square outdoor lighting service provider for more than just our incredible expertise, fixtures, or lighting. We know our customers are the most important part of this whole operation! That is why we work hard to go above and beyond and with our customer service! When you hire us, you get benefits such as
Free design consultation
Free nighttime demonstration
Optional annual maintenance plans (AMPs)
Post-installation adjustments
Unbeatable customer service!
Call us today at (732) 334-3163 to book a free consultation with our lighting designers. Let us create a custom outdoor lighting design plan just for you!