Columbia Holiday Outdoor Lighting Services
How much fun do you have, year after year, putting up your outdoor holiday lighting and then taking it down? How many trips to the store do you usually end up taking to buy more holiday lights before you become nearly completely disillusioned with the task at hand? If this sounds familiar to you, you're not alone. Time and time again, we're often called as the "last resort" after someone has finally given up on installing their own outdoor holiday lighting. Outdoor Lighting Perspectives of Columbia can help with your residential holiday lighting!
Schedule your free holiday lighting consultation!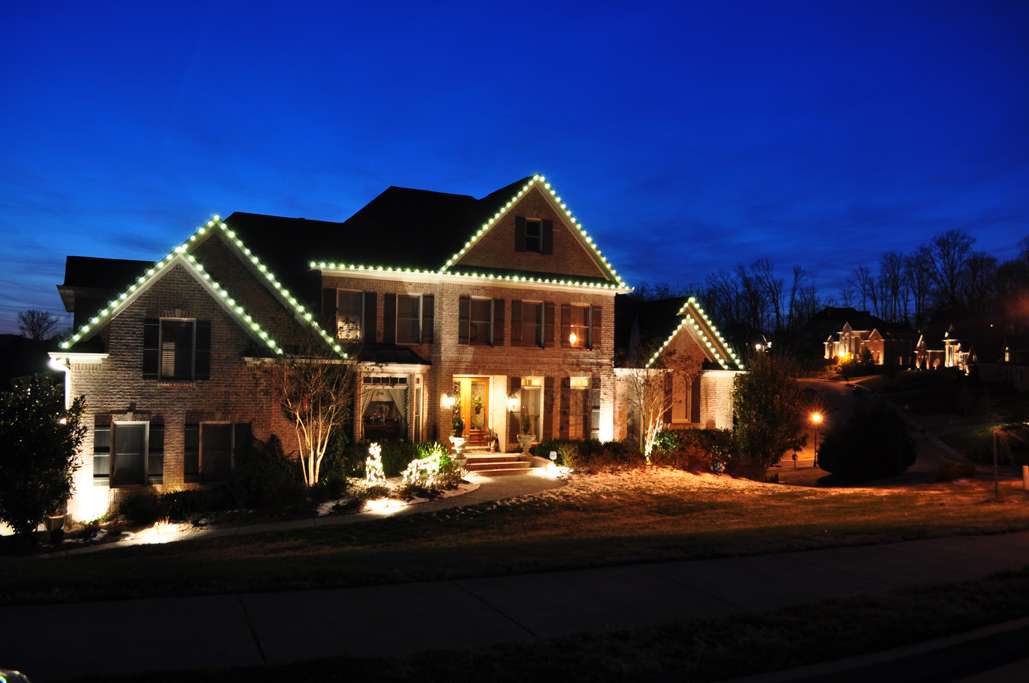 Why Hire Professional Christmas Lighting Installers?
After all, do you want to spend your precious weekend time up on a ladder trying to put up the perfect holiday lighting? More than likely, the answer is, "no". We offer peace of mind and perfect outdoor holiday lighting installation services in Columbia, SC, and surrounding areas. After you have enjoyed the holiday season, we'll return to remove the decorations and carefully store them in our warehouse until the next holiday season.
Our Columbia holiday outdoor lighting program is a full-service program that makes your home and business merry and bright. We also perform commercial outdoor holiday lighting installations. Again, we install the lighting, then take it down and store it once the holidays are over.
Our Holiday Lighting Products
What are the best types of Christmas lights?
At Outdoor Lighting Perspectives of Columbia we believe is creating beautiful holiday lighting displays, but also being energy efficient! We use LED C9 lighting to accomplish both! We know you will love the way it makes your home look this holiday season. Learn more about our products below!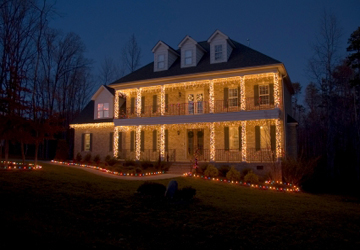 Roofline & Walkway Lighting:
LED C9's are the perfect way to uniformly outlining your roofline and walkways. Our commercial grade UL listed outdoor lights are triple coated and are rated for up to 100,000 hours of operation. Choose from white or colored strands or a mixture of both
LightLinks:
Our high quality LightLinks string lighting adds an extra style with snowflakes, icicle lights, stockings, candy canes and more. The patented locking-gears allow the lights fit to any roof shape for a uniform look.
Snowfall Lighting:
Snowfall lighting is the latest trend for trees of all sizes. Our LED snowfall lights create the look with patterns dimming on and off down the string as if snow is falling.
Wreaths & Garland:
Our pre-lit wreaths and garlands look great on your doors, windows, railings, pillars and homes day and night. They come in a variety of sizes and can include pine cones and red berries. The UV protection ensures your foliage won't turn colors or fade.
Commercial Holiday Lighting:
Decorating your business for the holidays portrays a festive holiday spirit for your employees and clients. Our commercial grade materials withstand the elements for years of enjoyment.
What Types of properties do we decorate?
Residential properties
Commercial properties
Hospitality properties
Municipalities
Homeowners Associations
And more!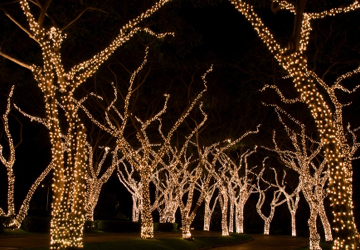 Seasonal Lighting Services All Year Round!
Our holiday décor isn't just for the winter holidays. We also offer holiday lighting services for all the major holidays, including Easter, Halloween and the Fourth of July!
Why choose Outdoor Lighting Perspectives of Columbia?
Year after year, Outdoor Lighting Perspectives of Columbia has proven itself to be the local outdoor lighting experts to our Columbia neighbors and fellow business owners. We believe in putting the customer first, especially during the most wonderful time of year! We work hard to communicate effectively with our clients to make sure your vison of being the most festive house or business on the block come true! We have a proven process that can't be beat!
Free consultations and nighttime demonstrations
Fast service and maintenance
Warranty on our work
Exclusively work on outdoor lighting systems.
It's never too early to get started with your holiday lighting! Contact the Columbia team today!
As always, feel free to contact us for your free holiday lighting estimate by calling us at (803) 274-6115.