Springdale Outdoor Lighting Services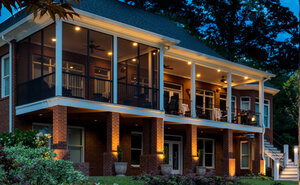 For captivating outdoor lighting services in Springdale and NWA you've come to the right place. We are Outdoor Lighting Perspectives of NW Arkansas, a low-voltage exterior lighting company that specializes in all of your outdoor lighting needs for your Springdale properties.
Whether you're looking to enhance your home's patio with some festive string lighting or want to show off your beautiful garden with an artful illumination, our expert designers can deliver exactly what you want.
We are backed by a name with over 20 years of experience and our services have been highlighted in numerous national publications, including Southern Living, Architectural Digest, and Martha Stewart Living. We are excited to show you what we can do for you.
Looking for low voltage dock lights? Give us a call at (479) 255-2438 or contact us online to learn more!
Light Up the Night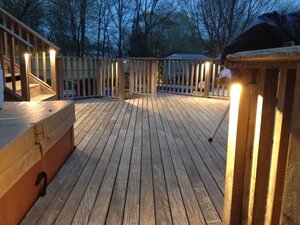 At Outdoor Lighting Perspectives of NW Arkansas, we are dedicated to one thing—your satisfaction with our services. From our initial complimentary design consultation where we tour your Springdale property until long after our expert installation, we'll make sure your installation is always shining bright.
We've enhanced the commercial properties of hotels, resorts, municipalities, event venues, and so many more. It's time to start owning the night—so reach out to us today.
Benefits of Professional Outdoor Lighting Installation Near Me
Since outdoor lighting installation can be quite an investment regarding both money and time, you want to perform the best job possible. That is why you should leave it up to the professionals to install an outdoor lighting system on your property.
The following are the advantages of our professional outdoor lighting installation near you:
Professional lighting technicians can save you time and money in the long run compared to DIY
We have the proper license to perform electrical work safely
Professionals are equipped with the state-of-the-art tools and technology to provide high-quality outdoor lighting services
We have the knowledge and experience to get the job done right the first time around
Call us at (479) 255-2438 or contact us online to get in touch with the best outdoor lighting company near you!
Outdoor Lighting Experts in Springdale, WA
We specialize in outdoor lighting, landscape lighting, holiday lighting, dock lighting, pathway lighting, patio lighting, and more!
Light up your life
We're a full-service outdoor lighting company ready to transform your home into a place you love to come home to. We provide high-quality and beautiful landscape lighting, garden lighting, boat dock lighting, pool lighting, and more!
Whether you're looking to create a relaxing outdoor space, an inviting front porch, or a festive holiday tradition, Outdoor Lighting Perspectives of NW Arkansas is the company for you.
Easy installation & maintenance
Working with our team is easy. We provide installation & maintenance services at affordable prices.
Give our team a call at (479) 255-2438 or contact us online to get started!
Stay safe with us!
We ensure that all lights are up to date with the latest safety standards.
What sets Outdoor Lighting Perspectives apart from the rest?
Accredited with the Better Business Bureau
Awarded Best of 2020 by Home Advisor
Awarded Best of Service 2020 by Houzz