Commercial outdoor Lighting in Springdale, AR
Reasons to Install Commercial Lighting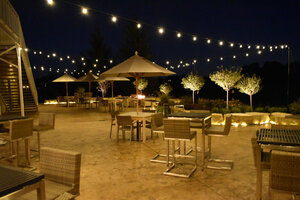 The positive impacts of commercial lighting are manifold. It can improve nighttime visibility, lure customers, or deter intruders. Illuminating the exterior of your commercial property can amplify safety and aesthetic appeal. Outdoor Lighting Perspectives of NW Arkansas can help you create the perfect atmosphere. We offer the best low voltage landscape lights, professional design, and more!
Contact us today for commercial outdoor lighting installation in Springdale! Call (479) 255-2438!
Outdoor Lighting Perspectives of NW Arkansas can help design and install lighting for businesses in any industry. We worked with them all. This includes restaurants, music venues, corporate headquarters, business parks, manufacturing facilities, and more. We help companies install outdoor commercial lighting for both functional and aesthetic purposes.
Here is a quick list of some venues we have installed commercial outdoor lighting for:
Special events venues like clubs and state fairs
Sports stadiums
Racetracks, country clubs, and golf courses
Outdoor wedding venues
Large amphitheaters
High-end restaurants
Cute café patios
Pub balconies
Hotel courtyards
Shopping center and strip mall parking lots
Recreational centers
Theme parks
Condo and apartment complexes
Public parks
Museums
Convention centers
Lighting Options for Everyone
We have years of experience installing commercial lighting for various industries. We are confident that we can tailor our services to realize any vision or style. You can count on us to apply tried-and-true techniques and use state-of-the-art equipment.
And with cutting-edge LED technology, we are always progressing with the times. We offer a digital app download that lets you program lighting remotely. This means you can adjust the intensity and timing of the lights with ease from your mobile device. Speaking of convenience, we also offer holiday lighting!
Committed to excellency, our professional outdoor lighting installation process includes: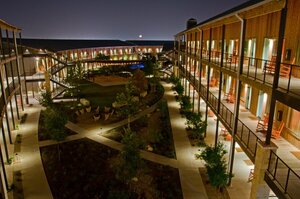 Durable fixtures. Our lighting specialists install lighting displays that stand up to most weather conditions.
Design expertise. We are your guides from the initial consultation on. Our design team mixes, matches, and brainstorms ideas to create your dream setup.
Complementary demonstrations. We provide customers with early demonstrations. This way, we can test out design decisions before the installation process begins.
Walk-throughs and alterations. After installation is complete, we will return at night for a double check. We confirm everything is perfect by inspecting the commercial lighting in the dark. This allows us to ensure the ambience and functionality work in tandem.
Warranties. We offer yearly maintenance plans and warranty guarantees. You can rest assured that your outdoor lighting setup is sufficiently covered.
Choose Outdoor Lighting Perspectives of NW Arkansas to be by your side. With us, you get the inherited experience of a franchise brand with more than 25 years to its name. Our local team is courteous, creative, and customer-centric. We are the go-to commercial outdoor lighting installation team in town.
Call (479) 255-2438 or contact us online to book landscape lighting in Springdale today! Click here to read some of our customer reviews.