Landscape Lighting in Reno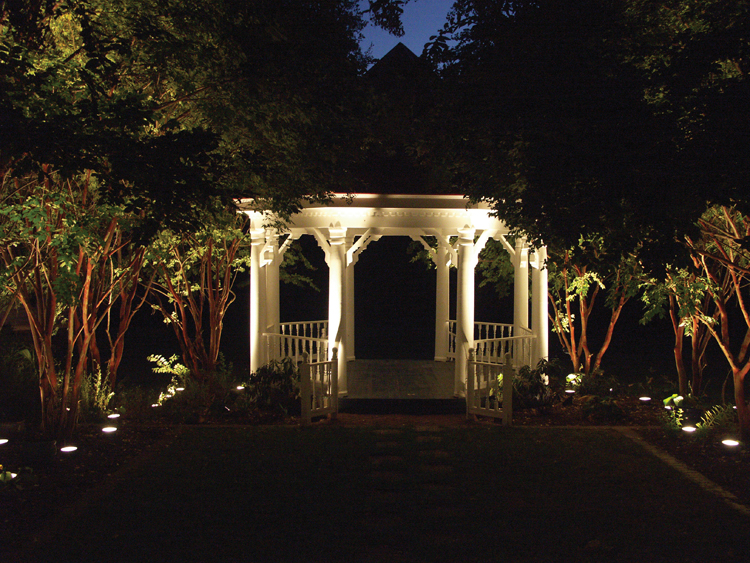 Outdoor Lighting Perspective's methods for creating custom residential outdoor lighting is the best!
Our lighting designer will meet you right before sunset. We walk your property, discuss lighting needs, desired effect and budget. We'll create a lighting design plan. Which we'll demonstrate that evening. We do so by setting up temporary lights to show exactly what the system will look like.
We then install the new landscape lights to get your property looking amazing. Check out our photo gallery to see examples of our work!
Searching for trusted landscape lighting in Reno? Count on us! Request your free consultation online or call us at (775) 451-2482.
RESIDENTIAL LANDSCAPE LIGHTING IN RENO, NV
Show off your stunning landscaping even after the sun goes down. Outdoor Lighting Perspectives of Reno & Lake Tahoe has the distinct landscape lighting solutions.
The one you need to accentuate your garden, highlight your walkways. Even illuminate your deck, and more. Don't let sunset stop you from enjoying the beauty of your outdoor spaces.
CUSTOM LANDSCAPE LIGHTING WHERE YOU NEED IT MOST
No two properties are alike, even on identical homes. Show off the best features of your outdoor spaces! You need custom landscape lighting designed for you.
We offer many exterior lighting solutions, including:
Spotlights That Accentuate Trees, Bushes, Fountains, and More
Path Lights That Guide Guests through Your Property
Poolside Lighting That Shows off Your Water Features
Accent Lighting That Subtly Illuminates Your Entire Yard
Fountain Lighting That Transforms Your Water Displays
Mood Lighting That Creates a Romantic Outdoor Atmosphere
Give our team a call at (775) 451-2482 or reach out online to book your free consultation. Our Reno landscape lighting company looks forward to serving you!
ADJUSTABLE LIGHTING THAT CONFORMS TO YOUR CURRENT NEEDS
Our Reno lighting designers will come to your home. We then determine which lighting solutions will best suit your property. Including your goals, and your budget. We will set up a complimentary nighttime demo. This will show you what your property will look like with our lighting design in place.
Get a personalized landscape lighting plan made for you! Only from the experts at Outdoor Lighting Perspectives of Reno & Lake Tahoe.
Low Voltage Landscape Lighting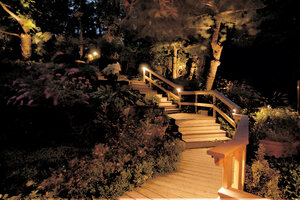 Do you already have landscape lighting? We offer energy-saving landscape lighting upgrades! We can work with your existing system to improve the look of your property and help modernize your exterior,.
Our low-voltage landscape lighting light displays will save you money in energy bills. So your lighting upgrades will ultimately pay for themselves!
If you only want to add to the lights you currently have, we can do that too. Contact us today to schedule your free consultation in Reno or the surrounding areas.
Looking for a top-rated landscape lighting company near you? Call us at (775) 451-2482 or reach out online to schedule your free estimate. We warranty our services!
Some frequently asked questions from our Reno clients
DOES LANDSCAPE LIGHTING USE A LOT OF ELECTRICITY?
Landscape lighting and other
outdoor lighting systems
don't have to break the bank! Outdoor Lighting Perspectives of Reno & Lake Tahoe installs our landscape lighting systems using low-voltage and LED lights. With proper, professional installation, a 15-light system can cost you only $22 a year!
CAN I GET OUTDOOR LIGHTING FOR MY COMMERCIAL PROPERTY IN RENO?
WHAT IS LOW-VOLTAGE LIGHTING FOR LANDSCAPE LIGHTING?
Low-voltage lighting uses a transformer to reduce the line voltage. By doing this, your outdoor lighting systems can be more energy efficient!
Whether you have an outdoor dining room or a central entertainment courtyard. We have lighting options that are perfect for you. Reach out to OLP today at (775) 451-2482 to set up an appointment.