Deck Lighting

in Wilmington, DE
Looking to enjoy the warm weather months for longer? Most Wilmington residents have in common something similar in common. Breathtaking lighting for their patio space and outdoor decks! You can now join in on the fun and be one of them! All you have to do is invest in deck and patio lighting from the experts at Outdoor Lighting Perspectives of Delaware Valley. We can assure you'll be satisfied with our unmatched attention to detail for your outdoor lighting projects. We offer a wide variety of deck lighting and patio lighting fixtures, design consultations, maintenance plans, and more! Everything you need to have the best backyard in town!
Request your free deck lighting consultation today!
Add Charm to your Patio with deck lighting!

You've already invested in the look and feel of your deck or patio for your property, why not extend the amount of time you or your customers can appreciate it by investing in outdoor lighting to match? We have a wide variety of deck lighting ideas and fixtures to choose from. Let us work with you to find lights that will enhance your deck or patios unique ambiance.
When you choose our elegant lighting design, you're choosing to accentuate the beauty of your stunning patio or deck. Your neighbors and guests will be impressed by the cozy feeling that comes with our outdoor lighting.
Enjoy Summer Grilling and Firepit Gatherings
Do you enjoy grilling and entertaining guests on your deck in the spring and summer months? With our lights, you get to enjoy and spend quality time with your family, not only during the day but also during the evening and into the night as well. And cozying up with your partner under our warm and romantic lights late into the evening is undoubtedly the best way of spending quality time.
Different Ways to Enjoy Deck and Patio Lighting for Your Property
Beautiful, Functional, and Energy Efficient Lighting
When we install lighting for your deck or patio, we take energy costs and functionality into consideration. Our gorgeous copper fixtures have been tested to withstand the tests of weather and time outdoors. We also use specialty LED lights that are energy efficient and longer lasting. Meaning you can spend more time outdoors without worrying about the cost.
Illuminate your outdoors with our wide range of exterior lighting and ensure that your guests get a welcoming first impression at a lower long-term cost to you.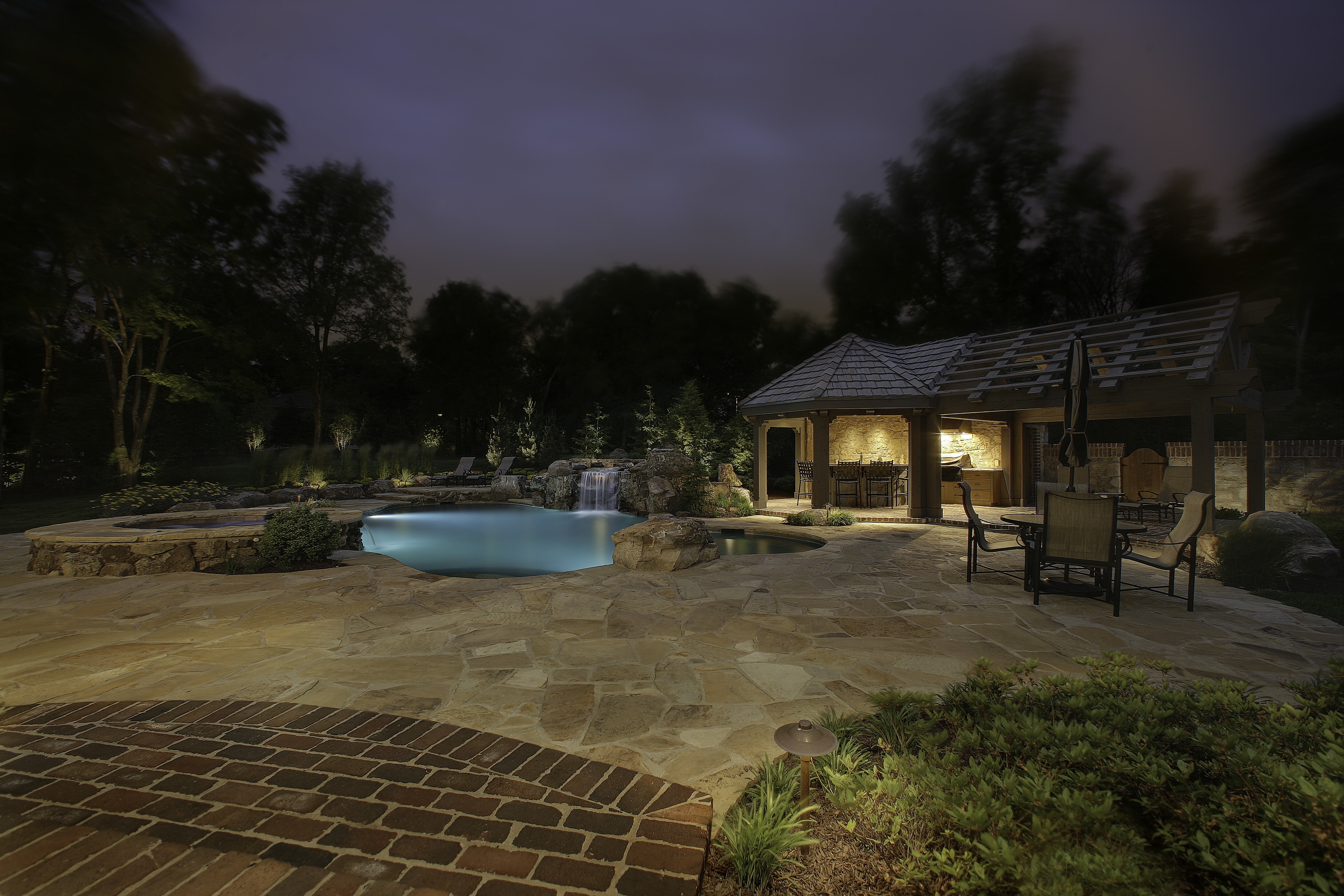 Relaxing at Night with Patio Lighting
Sometimes, even just 15 minutes in the fresh air is all it takes to change one's mood and make the mental shift from "work mode" to "down time". After all, you chose your outdoor furnishings with care and comfort in mind, so they should be for more than just daytime use! Enjoying the beauty of your landscaped yard from your deck or patio as you wind down the day with a glass of wine or cup of tea becomes more than just a possibility with proper outdoor lighting: it becomes a way of life. For example, one way you can enjoy your deck or patio to its fullest every season is by using paver lights around the perimeter. Paver lights enable all the variations in pattern, light and shadow to come vividly to life after dark. Combined with strategic railing lights and column lights and your deck or patio becomes fully usable as a space for entertaining friends and family year round.
Learn more about our deck lighting ideas in our free design guide!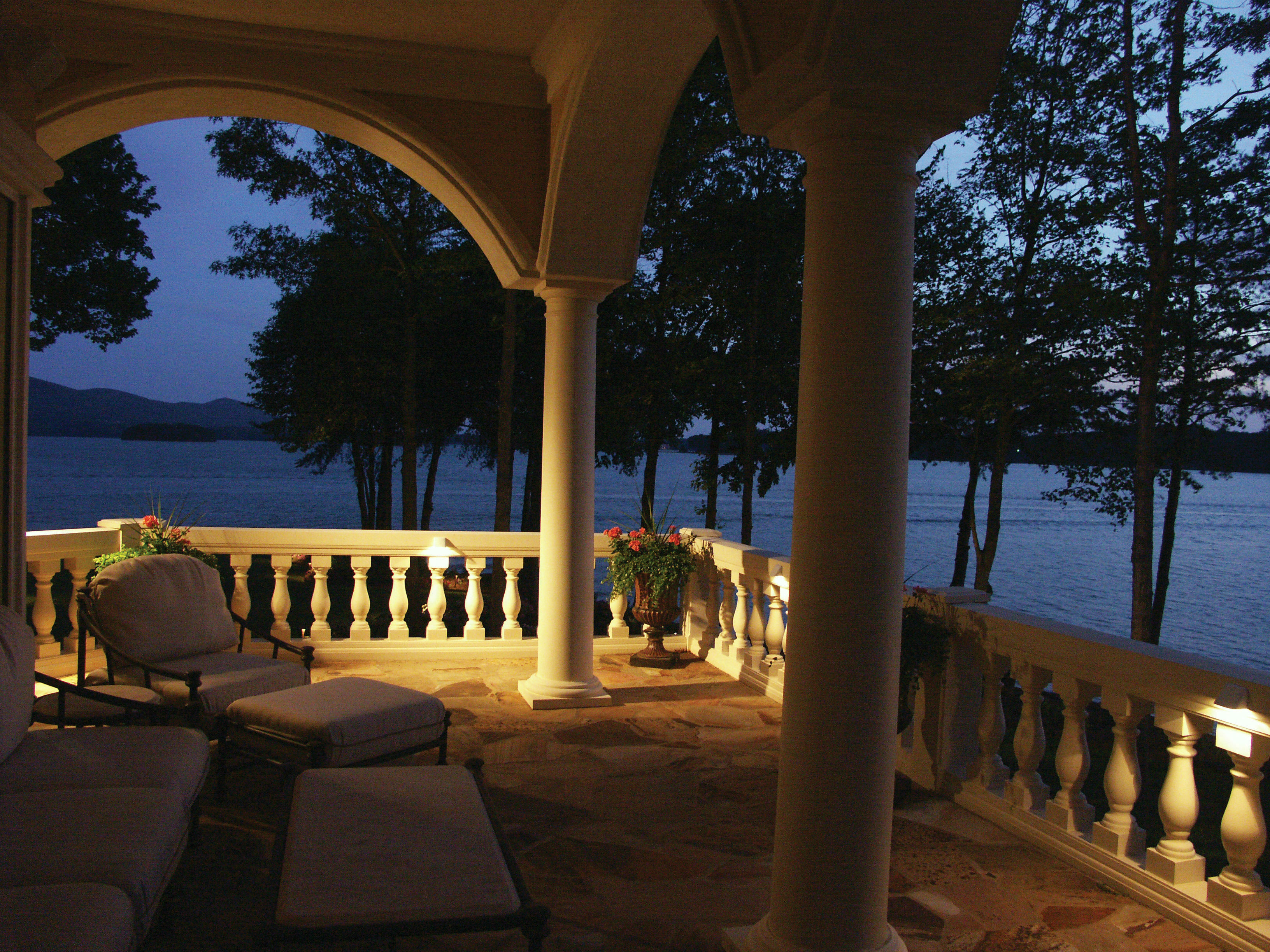 Use your Deck and Patio for Children's Play Time
When your outdoor lighting is fine-tuned to your family's specific needs and preferences, firing up the grill does not have to wait for longer summer hours: enjoy Bar-B-Que on a Tuesday night! Regardless of the season, with path lighting, you can expend excess kid energy by planning a new family tradition: the evening scavenger hunt. My advice would be to have your deck or patio be "base" and you send the kids (or teens or other adults) off on the hunt. The "treasure" can be anything including elusive Easter eggs, a series of toy dinos hiding in the impatients, origami swans peeking out of the rockery, or things out in the garden itself: red leaf, an acorn, pinecone, or feather. Path lighting allows for scampering about without tripping in the dark and safely integrates the spaces to and from your deck or patio.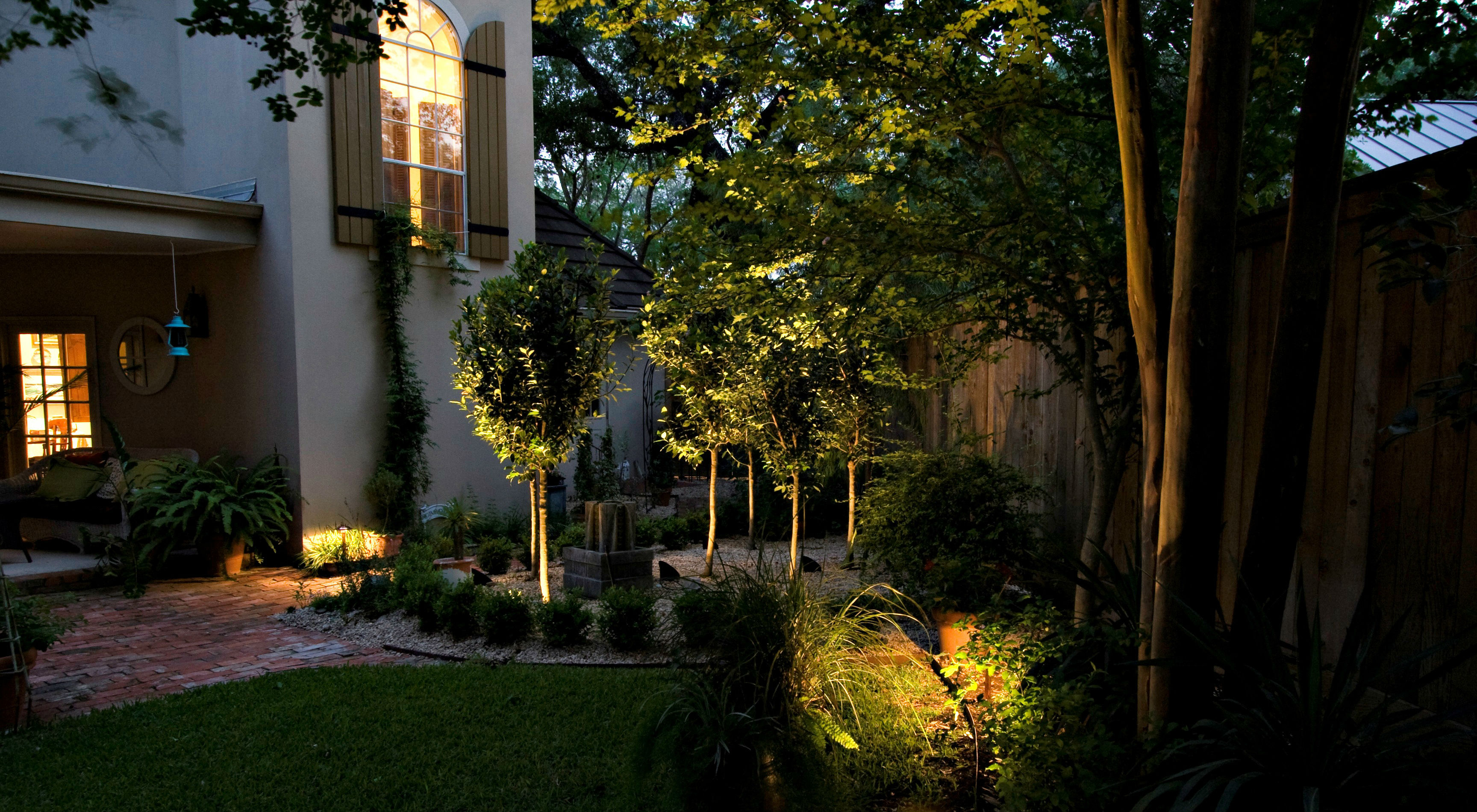 Enchanting your Garden Around the Outdoor Patio
Outdoor lighting transforms our yards into a magical paradise. Viewed from your deck or patio, your flowers and shrubbery, which are lovely during the day, are cast in new dimensions with the creative use of low level LED ground lights. Familiar planting shapes of even the most common greenery, like ferns, petunias and lavender take on exotic new textures and colors with ground lights. Ornamental trees, such as Japanese Maple, become evening jewels when accented with featuring lighting. Feature lighting enables small trees or sculptures to ground the scene in your landscaped yard: it gives your eyes, and feet, a destination and broadens your view beyond the boundaries of the square footage of your deck or patio.
When we think of our deck and patio spaces as true outdoor rooms, the need for well-designed outdoor lighting to make those rooms truly usable and functional makes perfect sense. There are endless possibilities with outdoor lighting for your Delaware deck or patio. Outdoor Lighting Perspectives of Delaware Valley offers unsurpassed design, installation and service for all your outdoor, pool, architectural façade, landscape, path, deck, patio, and garden lighting. We service all of Wilmington, DE and surrounding areas outdoor lighting needs, both commercial and residential. See your home or business transformed with lights through our professional, energy-efficient LED lighting installations and retrofits.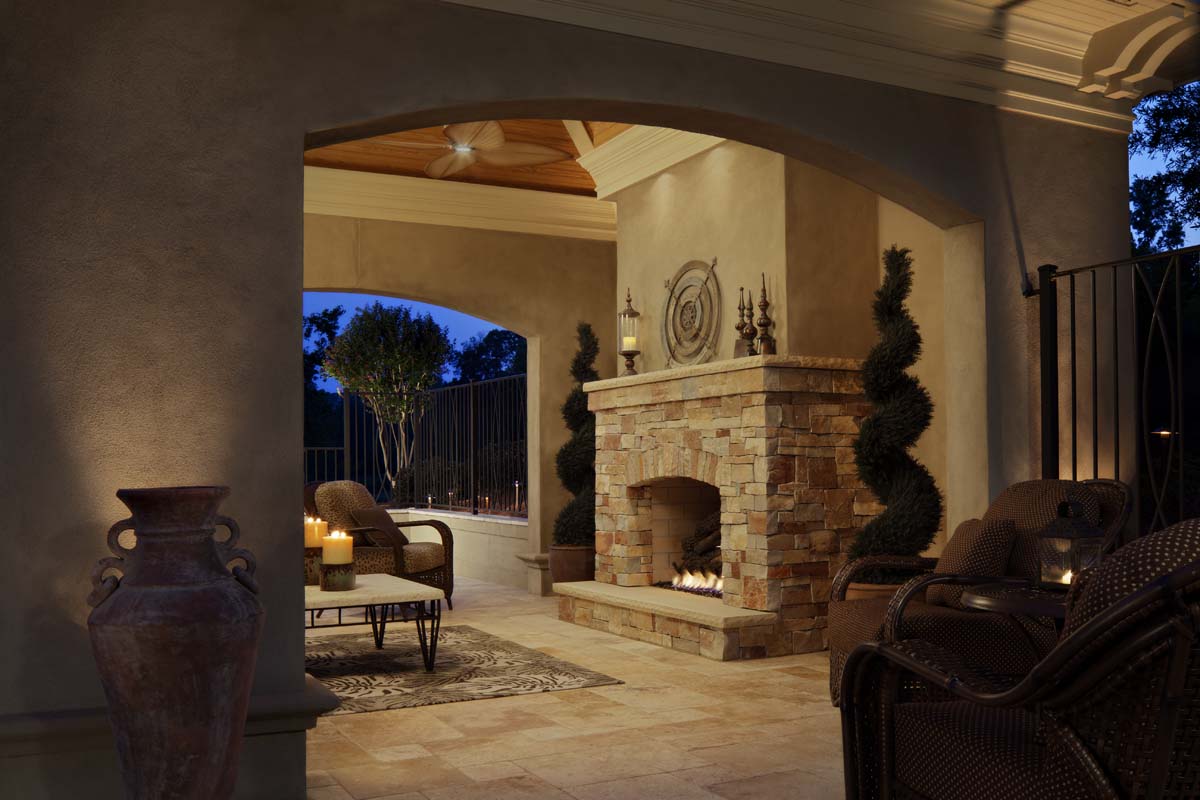 The Best Deck Lights are An Investment in Security
Outdoor lights do more than create ambiance. They also help keep you safe at night. In our opinion, outdoor lighting is one of the best, most cost-effective way to ensure safety. Have you ever tumbled down the stairs of your deck or patio? Adding lights is a simple way to extend the safe use of your deck or patio. It may also discourage loitering or trespassing, making outdoor lighting an investment in security for your home or business.
Our goal is to work with you during the choosing and installation process and ensure that our custom lighting design gives you maximum satisfaction, whether you're looking for style or functionality.
CONTACT Outdoor Lighting Perspectives of Delaware Valley
Outdoor Lighting Perspectives of Delaware Valley specializes in both residential and commercial lighting needs. For your deck and patio lighting needs we offer:
LED outdoor lighting
Custom design
Nighttime Demos
High quality lighting fixtures
In-lay, recess, and soffit lighting
Optional Annual Maintenance Plans
Exceptional customer service
And more!
If you have any questions about our deck or patio lighting services, contact us today at (610) 400-1661 for a consultation. We'd love to hear from you!