el paso residential landscape lighting
Outdoor lighting company near you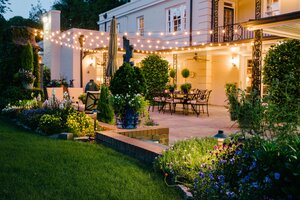 At Outdoor Lighting Perspectives of El Paso, we strive to be much more than your average landscape lighting company. Our specialists design and install lighting arrangements that complement your architecture and landscape. Backed by a national franchise with over 20 years of experience, we have the resources and support to deliver stunning results – every time.
Give us a call at (915) 975-7728 or contact us online to schedule your free outdoor lighting design consultation today!
Landscape lighting will bring out the beauty of your home's exterior. It will illuminate your garden, pathways, and other areas so that you can enjoy your yard year-round. There are many different factors that go into choosing the lighting that is right for you, including cost, functionality, and style. We have helped many homeowners in El Paso select the perfect landscape lighting to enhance their outdoor spaces. By using energy-efficient LED fixtures, we deliver cutting-edge and energy-efficient illumination.
Some of our most requested lighting options include:
Accent lights to enhance architectural features
Spotlights to shine on large trees and building facades
Pathway, walkway, and stair lighting to keep everyone safe
String lights to sparkle above outdoor gatherings
Poolside lighting for nighttime swims
Adjustable floodlights to ward off stray animals and intruders
Dazzling garden installations
Ambient deck and patio lighting to create the ideal mood
A One-Stop Residential Lighting Service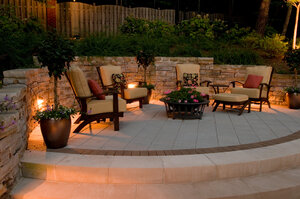 We do much more than install outdoor lights. Our comprehensive services include:
Annual Maintenance Plans – Let our team routinely check the condition of your outdoor lighting to save money and energy long term.
Holiday lighting – We offer seasonal lighting options to spread yuletide cheer every winter.
Complimentary in-person consultations – After touring your residence and discussing your ambitions, we will create a personalized lighting plan tailored to what you're looking for – no obligations attached.
Nighttime demonstrations – Our designers can set up demo lights at night to showcase your property's full potential and make necessary adjustments to ensure your vision is captured.
Lighting upgrades – Let our technicians upgrade your system to low-voltage LED lights, which will save you money and energy.
Looking for lighting installation in El Paso? Give our team a call at (915) 975-7728 or contact us online to learn more about our options!