Landscape Lighting in Ft. Lauderdale, FL
Transform Your Landscape with Beautiful Outdoor Lights
At Outdoor Lighting Perspectives of Fort Lauderdale-Boca Raton, we install landscape lights for both functional and aesthetic purposes. With an expert design team, quality lighting fixtures, and skillful lighting specialists, you can rest assured that you are in great hands. Our landscape lighting possibilities serve many ends.
We can install landscape lights that:
Illuminate pathways
Accommodate evening gatherings and events
Decorate home exteriors and business fronts
Increase navigability
Enchant and dazzle onlookers & passersby
Some customers are looking for added nighttime security and increased visibility around their property. Others want to illuminate the landscape and architecture of their property when the sun goes down. We are happy to customize our landscape lighting approach to meet your unique needs.
Call us at (954) 737-5184 or contact us online to get a free consultation for landscape lighting in Fort Lauderdale.
Creative Outdoor Lighting Ideas for the Backyard, Front, and more!
Our lighting specialists can install lights in various settings. If you are looking to illuminate a balcony, porch courtyard, parking lot, patio, lawn, deck, or garden, our expert technicians can make it happen. We use only the highest quality products and offer creative possibilities. If you prefer LED lights that are adjustable via mobile apps, premium handcrafted fixtures, or specialty hardware, just let us know! You can also received our services for landscape lighting in Fort Lauderdale and beyond!
Overhead string lights are another excellent way to enchant guests and visitors. They are also versatile – capable of being installed on balconies, trellises, fences, and staircases. Serving both decorative and safety purposes, string lights can lure in customers, illuminate hazardous spaces, and enhance the ambiance of your property.
We Service Every Kind of Residence & Business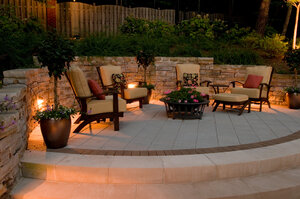 We can set up a beautiful landscaping lighting display for:
Service sector establishments, such as wedding venues, amphitheaters, and outdoor breweries.
Public parks, botanical gardens, and other gathering spaces featuring vegetation.
Hospitality properties, such as resort courtyards, hotel pools, and country clubs.
Parking lots, strip malls, and shopping corridors.
Museum grounds.
Apartment complexes, condos, and residential communities.
We have the tools, techniques, and experience to install landscape lighting for every type of space. We offer the versatility necessary to proudly service every kind of customer – from Homeowners' Associations to shopping centers. We also serve surrounding areas to offer quality landscape lighting in Fort Lauderdale.
Frequently Asked Landscape Lighting Questions
What maintenance is required for landscape lighting?
After having landscape lighting installed maintenance will be needed periodically. Common maintenance for your landscape lighting may include replacing lamps, wire repairs or replacements, and clearing the debris that gathers around your fixtures.
Are there energy-efficient landscape lighting options?
Of course! If you're looking for an energy efficient option, LED (light emitting diode) lighting may be right for you. Mostly used for holiday lighting, LED lighting has become more suitable for outdoor lighting installation. It's important to note that you will see a higher initial cost, but there are other benefits like using a fourth of the energy of other low voltage lighting. LED bulbs can also last up to 50,000 hours which results in lower maintenance cost.
What landscape lighting services do you offer?
Our team proudly offers the following landscape lighting services for home and business owners near Fort Lauderdale:
Professional landscape lighting design
Installation
Repairs
Maintenance
Consultation
Call (954) 737-5184 or contact us online to request a free landscape lighting consultation!