Virginia Beach Landscape Lighting
Work with the professionals at Outdoor Lighting Perspectives of Virginia Beach!
Landscape is one of the best features of a home, which is why it should be on display day and night. Outdoor Lighting Perspectives of Virginia Beach will custom design each beautiful outdoorlighting fixture to illuminate your landscape with beauty and grace. From garden and pathway lighting, tree lighting, and deck and patio lighting, we will illuminate your landscape so you can enjoy your gardens and special water features well into the evening.
Give us a call at (757) 665-2668 or contact us online for landscape lighting ideas!
Virginia Beach residential Landscape Lighting will:
Provide safety and security; Getting from the car to the front door of your home with a handful of groceries can be dangerous. By lighting your landscaped pathways, you'll keep your friends and family safe from any trips or falls.
Increase time outside; Simply installing lighting around your porch, patio, deck or pool, you can increase the amount of time you get to spend in your outdoor space.
Set the mood; Whether you are indoors or out, lighting has the ability set the perfect mood for any type of situation: romantic, fun, eclectic. We can customize your design to help create the mood of your outdoor living space dreams.
Lighting Options
GARDEN AND PATHWAY LIGHTING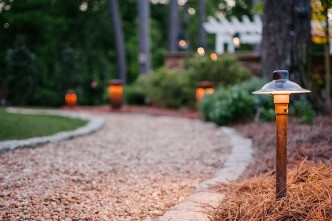 Illuminating pathways that lead from your home into your backyard and gardens will help ensure safety and security for your family and guests alike. Outdoor Lighting Perspectives will design custom outdoor landscape lighting to surround your pathway while highlighting the beautiful landscape in each flower bed. Illuminating your plants and landscape will help create a romantic ambiance for plenty of evenings spent reading, relaxing or entertaining in your backyard.
TREE LIGHTING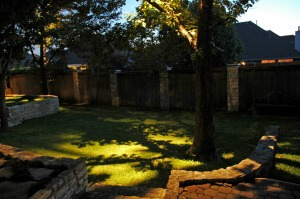 Every home has its unique focal point. Some have a beautiful brick façade, while others prefer their large seamless windows, but for many, it's their landscape and especially their featured trees. Tree lighting is a key component to outdoor lighting design by creating depth and concluding the overall design and mood, whether it's soft and romantic or festive and fun.
Pictured lighting: Moonlighting. Moonlighting is meant to subtly illuminate your tree. The goal behind moonlighting is to mirror the effect of light from the moon. These fixtures are installed high in the tree branches and positioned down.
Ready to install outdoor lights for your patio? You've come to the right place. Give us a call at (757) 665-2668 or contact us online today!
POOL LIGHTING
Pool lighting in Virginia Beach is a popular addition that will enhance your nighttime swim. Creating a fun or relaxing ambiance for the family to enjoy together will have you all waiting for the sun to go down.
CURB APPEAL LIGHTING
You've pulled out all the stops to make your house and yard look top notch, so why would you let that hard work disappear into the night? With Outdoor Lighting Perspectives of Virginia Beach, you can roll back the darkness and put the beauty of your home on display.
PATIO LIGHTING AND DECK LIGHTING
If you are someone who loves spending time on your deck or patio, you know how important it is to illuminate your outdoor living space well into the evening. Patio and deck lighting can create an atmosphere for romantic late night dinners or a fun s'mores dessert time with the family.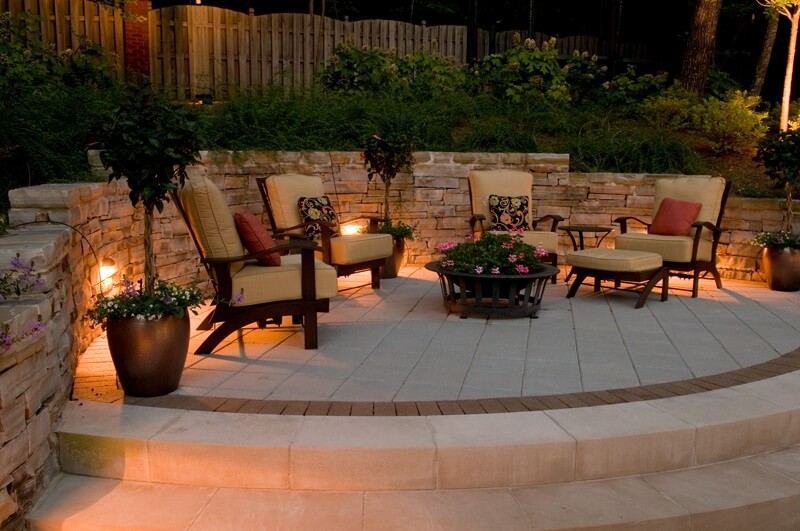 Looking for lighting installation in Virginia Beach? Give our team a call at (757) 665-2668 or contact us online to learn more about our options!