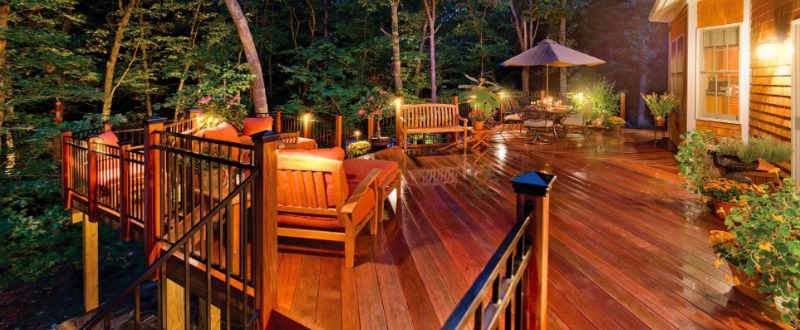 Simple lighting in strategic locations can dramatically transform your backyard deck. Whether you want a peaceful oasis or an energetic entertainment spot, you can set the tone for your outdoor living space with a touch of lighting from Outdoor Lighting Perspectives. Work with the designers at Outdoor Lighting Perspectives to bring out the best in your deck.
Illuminate Your Deck's Best Features
Why spend all that money on a gorgeous deck if you can only use it when the sun is out? At Outdoor Lighting Perspectives, we think you should enjoy your deck long after the moon comes out. Accentuate the best parts of your outdoor living space and create an environment you can't wait to be in. That's the power of some well-placed lightbulbs.
Types of Deck Lighting
Stunning Accent Lighting
Guiding Path Lighting
Outdoor Step Lights
In-Deck Lighting
Simulated Moonlights
Contact Outdoor Lighting Perspectives at 800-447-1112 to discover the perfect deck lighting ideas for you.
Long-Lasting Lighting without High Energy Bills
Your deck lighting shouldn't double your energy bills. We usually recommend using low-voltage LED and halogen lights for decks because they last longer and run more efficiently than traditional outdoor bulbs. We offer a wide range of tones, outputs, mounts, and other lighting options to create the perfect atmosphere for your deck. We even offer fully programmable lighting that puts you in control of what your deck looks like. No matter what kind of deck you have or how tight your budget may be, we have a solution that's right for you.
Nighttime Demonstrations Are Available!
Want to see what your deck will look like before you sign off on the project? Outdoor Lighting Perspectives provides nighttime demonstrations so you can get the full effect of our deck lighting ideas. Call us today at 800-447-1112 to schedule a free consultation with one of our designers. We will gladly show you what your deck is capable of!