Custom Outdoor Lighting with YOU in mind!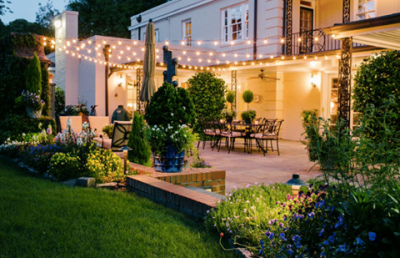 Outdoor Lighting Perspectives of San Antonio North offers many genres of outdoor lighting. From landscape lighting and architectural lighting for adding curb appeal and increasing safety and security at your home, to illuminating your outdoor living spaces to maximize enjoyment and even commercial lighting and lighting specifically for the hospitality industry. One of our most requested outdoor lighting applications is decorative outdoor lighting.
San Antonio FESTIVAL Lighting Adds Ambiance and Enlivens Evenings Outdoors!
Festival lighting, also referred to as cafe, bistro, fiesta and lighting, is all the rage for homeowners wanting to add ambiance to their outdoor settings. This genre of decorative lighting is one of the most interesting and versatile lighting trends customers are requesting. Outdoor Lighting Perspectives of San Antonio North embraces emerging and unique outdoor lighting ideas and new ways to introduce not only illumination into an area, but also as a way to convey a feeling of a mood within a space.
We only use American made, high-quality festival lighting that is meant to last for years to come. It's designed to last in the sun, rain, ice and snow thanks to its commercial quality and using the highest grade wiring available on the market. So you can safely enjoy them to party with your guests, or you can enjoy them any night with your family and friends.
Take a look at the way Outdoor Lighting Perspectives of San Antonio North added life to this patio after dark with festival lighting:
San Antonio Orb Lighting
Orb lighting (aka festoon lighting) provides an ethereal, fairytale appeal with its fanciful globes that look like they are floating in mid-air. They are available in 10″, 12″ and 16″ circumferences sizes in clear, white or an assortment of colors. This decorative outdoor lighting application can be used in many different outdoor settings, such as across patios, decks and strung in select trees within your San Antonio or Hill Country landscape.
Decorative Outdoor Lighting Adds Artistry & Beauty
The philosophy behind most of our custom outdoor lighting designs is the core idea of focusing on the effect, not the fixture. However, there is certainly a time and place where it is appropriate to incorporate a fixture which has a strong, sculptural presence during the day, and a beautiful, glowing presence at night — enter the addition of Attraction Lights!
These sculptural lights offer excellent LED lighting as path lights, driveway lights, bollards, area lights, or even garden sculptures. Unlike most landscape lights, these lights add beautiful artistic elements to your landscape during the day and in the evening.
Many of these fixtures cast decorative shadow patterns on the ground surface at night while at the same time providing top quality LED lighting!
Add A Splash Of Color!
At Outdoor Lighting Perspectives of San Antonio North, we give our clients the option of a twist of color by simply changing the lens cover on existing fixtures. What's incredible about this is that it does not require an entirely brand new fixture housing, we simply come in and change your clear lens covers on your existing well lights to one of the tinted lenses we have available, including: red, green, purple, amber, yellow, white and blue. It's an easy way to capture a different mood without a lot of fuss — adding the perfect decorative accent for any occasion or special feature you wish to illuminate.
For a complimentary design consultation or answers to questions, please contact us at (210) 741-9017.