Outdoor lighting in Chicago, IL
Outdoor Landscape lighting is all what we do.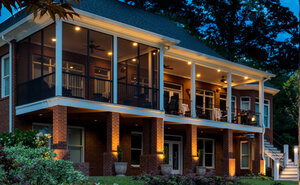 It's time to create the home and backyard you've always wanted it attractive outdoor lighting! We aren't just any Chicago residential lighting company. We are the residential outdoor lighting company for Chicago and surrounding areas. From architectural lighting to landscape lighting, and more, we focus our services exclusively on exterior lighting so you always get exactly what you're looking for. With Outdoor Lighting Perspectives of Chicago, your satisfaction is guaranteed. If you are looking to add extra security to your home or you want to fully enjoy the warmer months with backyard lighting, our professional lighting designers will work with you to create exactly what you need to full enjoy everything outdoor lighting has to offer!
Ready for superior residential lighting services? Schedule your free consultation today!
WHAT WE DO
We want to transform your outdoor living spaces in the best way possible. Some of our exquisite outdoor lighting options include:
Accent lighting to subtly show off your property's best features
Architectural lighting to highlight your home's unique beauty
Pool lighting to keep your nightly swims safe
Patio and deck lights to add excitement to your nighttime entertaining
Garden lighting to accentuate your stunning landscaping
Path lighting to guide your guests where they need to go
To learn more about our Chicago outdoor lighting company and what we can do for you, contact Outdoor Lighting Perspectives of Chicago. Our lighting designers will come to your home to create a custom plan for your outdoor spaces.
A Full-Service Residential Lighting Service Company
At Outdoor Lighting Perspectives of Chicago, we provide all the help you need to set up and take care of your outdoor lighting. Our services include: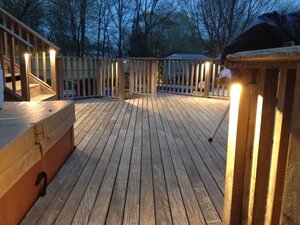 Free In-Person Consultation – Work directly with a designer to create a custom lighting plan for your property, with no hassle and no purchase obligation.
Budget and Guarantee – See your property's full potential and budget the cost with same day quotes. We also offer post installation consultation at night to assure your satisfaction.
Existing Lighting Upgrades – If you already have lighting on your property, we have retrofit kits to upgrade it to modern LED lights. These low-voltage lights will save you money and provide a brighter look for your yard!
Residential Lighting Maintenance – You'll get regular maintenance for your outdoor lighting so it always works its best.
Read our customer reviews from happy Chicago clients here!
Get your free consultation today and learn everything you need to know about our residential lighting services. Discover why our clients return to us time and time again.
Frequently Asked Questions
What other areas do you provide service for?
We serve the greater Chicago area, including Evanston, Schaumburg, Naperville, Orland Park, Boilingbrook, and more!
Do you install garden lighting?
Yes we do! We will provide you with a free consultation with our designer so you can find the exact lighting you want to show off your garden!
Does outdoor lighting raise electricity bill my a lot?
It doesn't have to! Our energy-efficient landscape lighting systems can add only $22 a year to your electricity bill!