Curb Appeal Lighting in Houston, Tx
Add Curb Appeal to your home with Stunning Outdoor Lighting

At Outdoor Lighting Perspectives of West Houston and the Woodlands, we know that one of the best ways to amplify the beauty of your Houston home's architecture is with a custom outdoor lighting plan. Luckily, we know the secret to an impeccable outdoor illumination is the perfect placement of energy-efficient LED lighting fixtures. During your complimentary design consultation at your residence, we will work with you to design an outdoor lighting plan that fits your wants and needs, including the ideal number of lights and style of fixtures, that will highlight the best features of your home's façade.
Our Outdoor Lighting Installation Process
After the complimentary design consultation, leave the hard work to our team of highly-trained outdoor lighting technicians to implement the exterior lighting design of your dreams. The transformation you will experience before and after your home's architectural outdoor lighting installation will be more than just transformative – it will be mesmerizing. Your Houston home's enhanced curb appeal and added ambiance will have every neighbor on the block green with envy.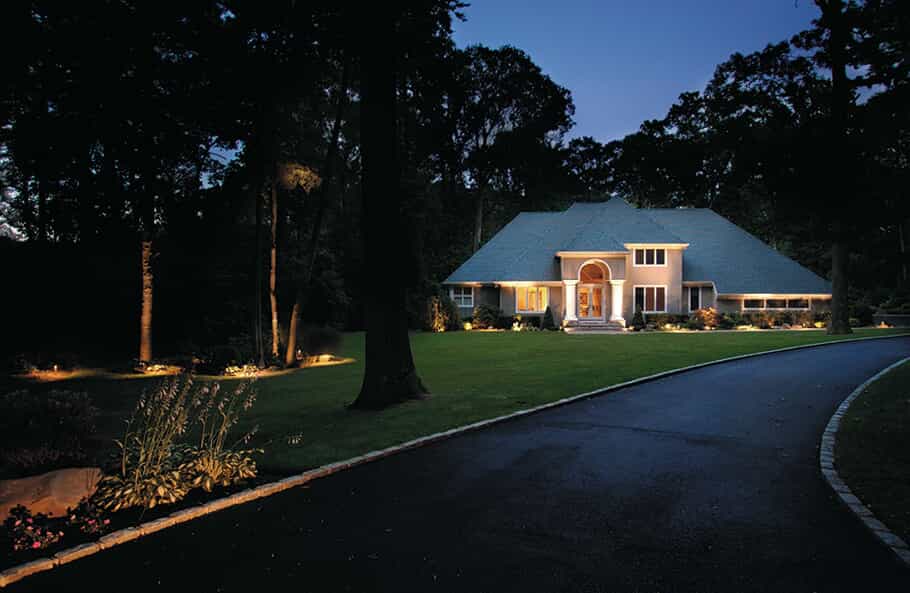 Get Curb Appeal Lighting Upgrades Today!
Do you have outdoor lighting already and are looking for an upgrade? We are happy to perform analyze your home's outdoor lighting with our Lighting Assessment Score analysis. Based on the results of the analysis, we will be more than happy to make the necessary improvements and desired enhancements to your existing outdoor lighting system.
Why Choose Outdoor Lighting Perspectives of North & West Houston, Katy, & Sugar Land?
The OLP name has been trusted by Houston residents for years. Why? Because we are more than just our expertise! We offer the highest quality fixtures, products, and maintenance plans. But not than our tech and knowledge, we understand the trust you put in our team to help you enhance your home! We work hard on open communication, transparency, and value for our customers. That's why we're the #1 outdoor lighting company in Houston for all our curb appeal lighting needs!
Whether you're still dreaming of outdoor lighting or looking for the outdoor lighting company to make those dreams come alive, call us today at (713) 231-5898 to schedule your complimentary design consultation or nighttime demonstration.