LED Outdoor Lighting Services in
Houston
Contact us for The Eco-Friendly option to your exterior lighting system

At Outdoor Lighting Perspectives of North & West Houston, Katy, & Sugar Land, our proven outdoor and landscape lighting principles of providing you energy efficient lighting while adding beauty and style to your exterior are above any other lighting company in Houston. Our unique design to highlight areas of your home by professionally trained lighting contractors can match every style, budget, and architecture. But we take it one step further, we don't want to just create your dream nighttime oasis. We want to be the most trusted lighting design company and we can only succeed by offering energy efficiency to all of Houston and surrounding areas.
Are LED lights good for outdoor use?
Yes! LEDs are a great chose that are as attractive as they are energy efficient! Coupled with our fixtures, your outdoor LED lighting will look great on your Houston property and will last for years to come against the elements as well!
CUSTOM DESIGN YOUR OUTDOOR LIGHTING
As every home is unique, the only true way to envision the effects is with our lighting designer at your home or business. As we tour your property together, discussing your needs and outdoor lighting ideas for design, purpose, and safety will help us build the right lighting design for you. This custom outdoor lighting design consultation is free and with no obligation. While we're together, we'll discuss what you'd like your new lighting to accomplish… what features you'd like to highlight… what mood you'd like to set. We'll then step outside to create a comprehensive lightscape for all areas of your home property. In the end, you'll feel that you're seeing a completely different home. Schedule your custom design consultation today.
What Outdoor Light Fixtures Should You Choose?
When it comes to choosing hardware for your outdoor lighting system, we set the highest standards with our corrosion-proof outdoor light fixtures, wires, and lamps. We love the fact that they can weather the toughest outdoor conditions in Houston. You'll love the way the solid copper and brass takes on a rich glaze over time, blending beautifully into your landscape. We set equally high standards for outdoor lighting performance.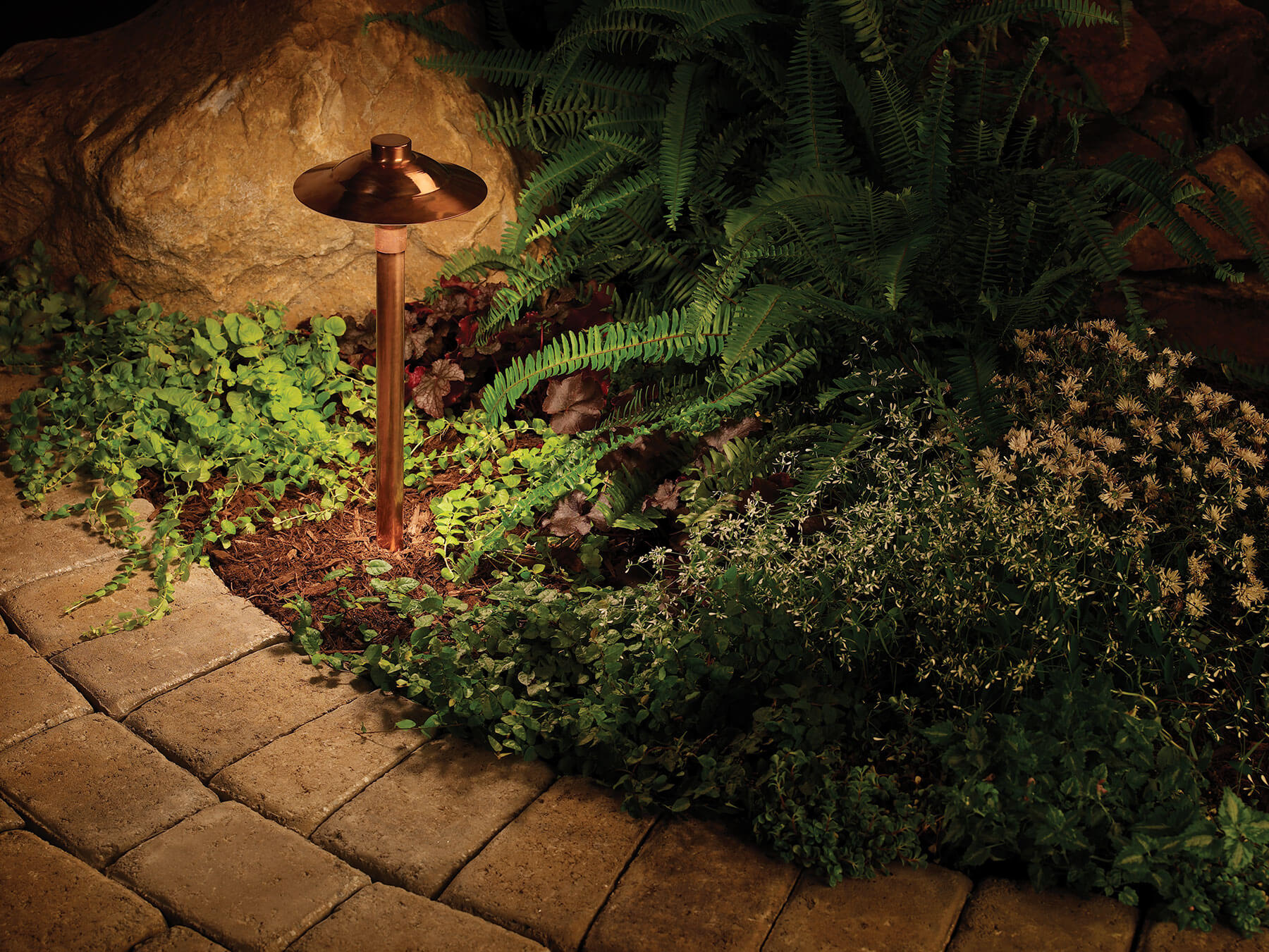 Our energy-efficient fixtures boast a long-life expectancy and a consistent light production. We use multiple voltage transformers in our low-voltage installations, allowing your lamps to use 50 to 60% less energy while delivering the perfect amount of energy-efficient illumination with balanced light intensity. Our state-of-the-art LED technology plays a major role in boosting your efficiency. We are so confident of our equipment's performance and durability that we offer unmatched warranty coverage. LED Outdoor Light Technology Todays environmentally-friendly LED technology offers beautiful light coupled with energy savings and longevity.
Consider the LED advantages:
• High efficiency – Up to 80% savings in electricity.
• Longer bulb life – Better illumination plus the ability to control light direction.
• Warm, pleasing color – Far superior to the bright white/bluish hue of previous LED technology.
• Instant on – No flicker, no delay.
• No toxic materials – Reduces your carbon footprint.
• Added durability – Operates in extreme heat and cold. Great for Houston, Texas weather.
As you see on this chart, LED bulbs can yield a life expectancy of 50,000 hours. The efficiency depends on LED quality, system design, operating environment and other factors. As dedicated LED landscape lighting specialists, we have the materials and installation expertise needed to make the most of today's LED technology. Technology Energy Cost Life LED Excellent 30,000-50,000+ hrs. Halogen Very good 2000-5000 hrs. Incandescent Moderate 750-2000 hrs. Solar Zero Generally short.