LANDSCAPE LIGHTING CHARLOTTE, NC
Outdoor Lighting Installation Experts
Want to add lighting to your home's exterior? But you're unsure of how to design landscape lighting, or what is included? Your questions answered! Landscape lighting could include illuminating any of your landscaping features. Such as flower beds, formal gardens, your most beautiful focal trees, tree lines and shrub rows. Outdoor landscape lighting can also include illuminating ornamental focal features. Such as water features, an outdoor fireplace, statues, rock walls, seating areas, pergolas. Or any other focal elements in your Charlotte yard. Our exterior lighting designer work on a plan for your landscape lighting. We will ask what features in your yard you most want to draw attention to at night. Our professional landscape lighting designers will work with you! And go over the entire process. Whatever is involved with installing your new outdoor lighting! From fixtures to low voltage lighting options. We believe in efficient communication. All to have your Charlotte how illuminated in no time!
Give us a call at (704) 703-7329 or contact us online for landscape lighting ideas!
Professional patio lighting
Enhance your curb appeal or create a soothing atmosphere in your garden and patio with our extensive range of landscape lighting. From LED lights, to timer systems, to traditional and modern lighting, we've got all the right solutions for you.
Light up your property
We offer the latest in lighting technology that provides not only the most striking, but also the most cost-effective light possible. It's not just about saving money on electricity bills - our outdoor lights are eco-friendly and last up to 10 times longer than regular bulbs!
Landscape lighting is easy with us
We've got you covered with a full range of installation services - from straightforward things like installing automatic lighting, to more involved tasks like turning your property into an urban oasis with under-ground piping. With just one call, you'll have a team of professionals at your service!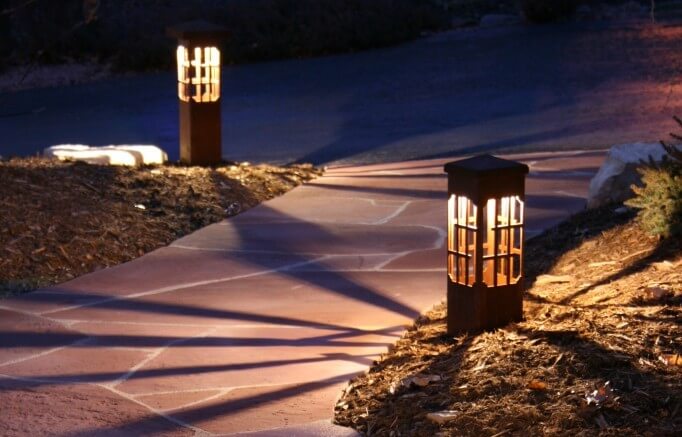 WHAT SHOULD YOU ILLUMINATE WITH LANDSCAPE LIGHTING?
From magazines to blogs. Sometimes there are too many landscape lighting ideas! From your front of your house and backyard. But the answer is still more simple than you may think: NOT everything. Less experienced landscape lighting designers will make the common mistakes. Trying to illuminate every tree, plant and structure in your yard. Outdoor Lighting Perspectives of Charlotte's experienced designer create a custom lighting design. Each home gets illuminate focal areas. Using the interplay of light and shadow to add nuance, romance and visual interest. In the front yard, we focus on the beauty you want your Charlotte neighbors and guests to see. In the back yard, we place our emphasis on the elements you will find most pleasing. Relax after dark on your patio, deck or porch.
Ready to install outdoor lights for your patio? You've come to the right place. Give us a call at (704) 703-7329 or contact us online today!
WHAT ELSE TO KNOW ABOUT THE LANDSCAPE LIGHTING CHARLOTTE LOVES?
WHAT DOES LANDSCAPE LIGHTING DO?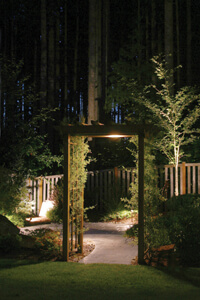 We bring your landscape out of the deep shadows and back to life after dark. Being able to appreciate the beauty of your yard at night is priceless. You've worked hard to build a beautiful yard. With plantings, shrub lines, tree lines, fencing, focal trees, flower beds. And decorative elements. It would be a shame not to appreciate and enjoy that beauty at night as you do in the daytime. Landscape lighting can accomplish this for you. Even as you sit inside your home and look out over your property, front or back. Landscape lighting can accomplish this for your guests as they arrive to the sight. The most beautiful aspects of your property gently highlighted for their enjoyment.
DOES LANDSCAPE LIGHTING IMPROVE SECURITY?
We firmly believe landscape lighting helps improve security at your home. Law enforcement and security professionals will tell you the same thing. That would-be robbers and intruders avoid well-illuminated homes. Don't just illuminate your home's architectural façade. When you illuminate yard features, too, you gain that added security. Landscape lighting works with architectural lighting to erase dark spots. Places where intruders would hide. This beautiful lighting combination presents a complete picture of a home. That is loved, protected and well cared for.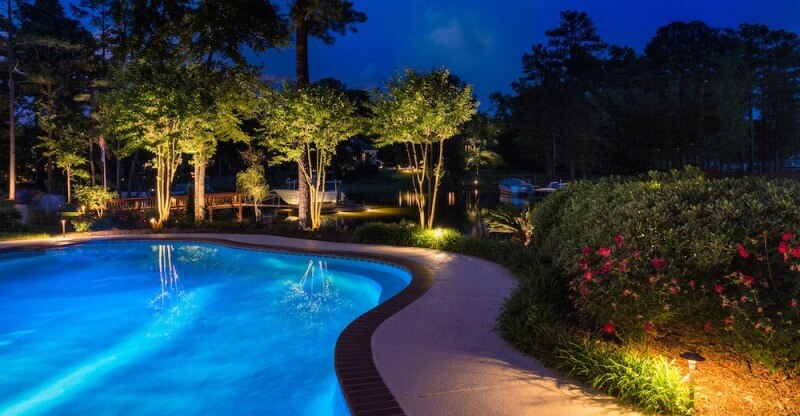 WILL LANDSCAPE LIGHTING MAKE THE YARD SAFER?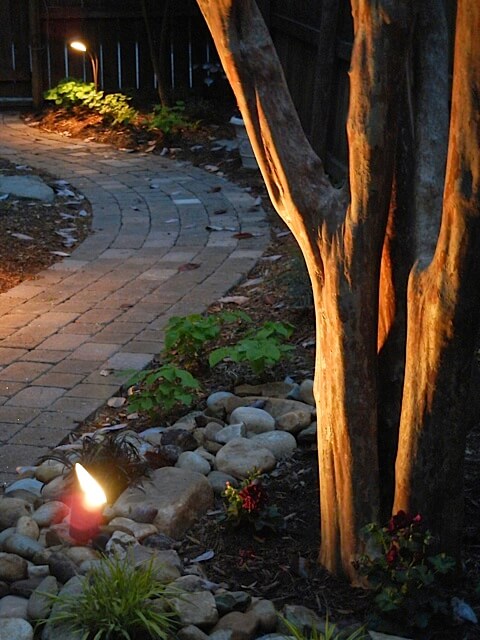 Anywhere people walk in your yard after dark, landscape lighting will increase safety. Think of those steps to your front door, back door, porch, patio or deck. You never want a guest to miss a step because of poor lighting. Do you have a walkway leading to the pool or to an outdoor fireplace or fire pit?
Think of any pathways through your yard. Including garden paths, and especially those paved with stepping stones. Any kind of stones, pavers or tiles can shift or become dislodged without you being aware of the danger. When you have path lighting installed, you never need to worry about a poorly-lit pathway. They can potentially cause an accidental fall.
As guests walk from your driveway to the front door, let them do so with the safety of adequate lighting. Your children return from their after-school activities. You'll appreciate being able to see them walk from the driveway into the house. The increased level of safety provided by landscape lighting always feels better.
DOES LANDSCAPE LIGHTING NEED TO BE MANUALLY TURNED ON AND OFF?
Absolutely not! We have the best landscape lighting systems installed or serviced by Outdoor Lighting Perspectives of Charlotte! They come with a timer that turns the lighting on at dusk and off at dawn. We can also create a custom program to turn lights off and on based on your needs and desires. Even better, you can turn your lighting on and off via your smart device or laptop at any time. This feature is especially convenient if you find out that people will be coming or going at times.
SHOULD LANDSCAPE LIGHTING BE VISIBLE?
The beauty of your yard is what's meant to be seen. And all our direct efforts are toward that result. We do have stunning genuine copper path lights. The focus of our lighting design is always the landscape features of your property. Your guests may happen to notice the outdoor light fixtures we use. The fixtures themselves will not detract. Not from the beautiful effects of your landscape lighting or features. We use handcrafted fixtures of copper and brass. Develop an attractive patina over time.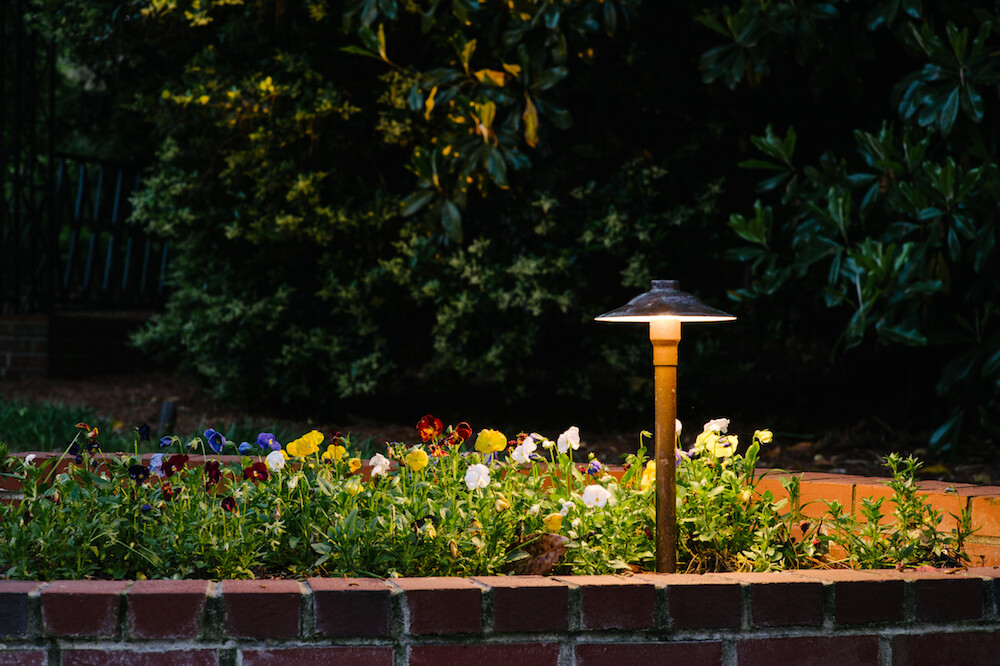 EXPERIENCE THE DECORATIVE LANDSCAPE LIGHTING CHARLOTTE HAS COME TO APPRECIATE
What are you waiting for? Our designers and technicians have years of training perfecting energy-efficient outdoor lighting. As both an art and a science. We'll find the best combination of different lighting fixtures. And techniques to create the perfect design for your property. That's why we're the best outdoor lighting company in the Greater Charlotte area!
Looking for lighting installation in Charlotte? Give our team a call at (704) 703-7329 or contact us online to learn more about our options!