OLP Helps Gordon Ramsay to
Rebuild Ellicott City, MD
Background
Ellicott City is a historic district in the metro Baltimore, Maryland area and was devasted by massive floods in 2016 and 2018. Local businesses have struggled to rebuild and thrive after these "100-year floods."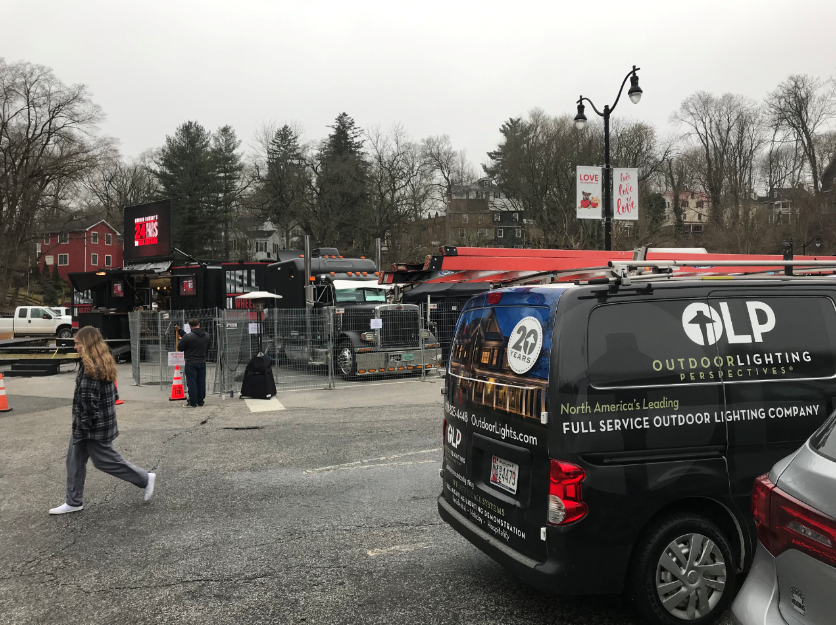 FOX's Gordan Ramsay's 24 Hours to Hell and Back: Save Our Town chose two Ellicott City restaurants to help rebuild – the Little Market Café and Phoenix Brewing—with the help of the Maryland National Guard, Baltimore Orioles Hall of Fame baseball player Cal Ripken Jr., and former Baltimore Ravens wide receiver Torrey Smith.

Goal
The goal of this show is to help struggling restaurants rebuild in a quick amount of time. Local businesses banded together to boost the Little Market Café and Phoenix Brewing and drive more business.
Tim O'Brien of Outdoor Lighting Perspectives of Baltimore was invited to help the restaurants by adding custom lighting solutions to the exteriors of the businesses. "We are honored we could play a part in the rebuilding of Ellicott City with Gordan Ramsay and his team," says Tim. "As a fellow small business owner, I can only imagine the sleepless nights that these owners endured as a result of these floods. The owners, and this historic town in general, deserved this makeover and I'm honored we could play a small part."

Solution
Tim O'Brien designed a custom string lighting installation for each restaurant to attract clients and boost sales.
For the Little Market Café, a new outdoor seating area was created including a stone patio and fire pit. OLP installed bistro lighting over the space to make it more welcoming and provide more space for customers to sit after the sun goes down.
For Phoenix Brewing Company, a local artist was commissioned to paint a large mural on the building's exterior depicting Ellicott City's rebirth. Bistro lighting was again used, but this time over the alley between Phoenix Brewing and its neighboring building ensuring that the mural could be appreciated by passersby.
To view the episode, visit https://www.fox.com/gordon-ramsays-24-hours-to-hell-and-back/.
Interested in bistro lighting for your outdoor space? Contact us today!